The I-Care Initiative is a non-profit initiative run by a group of young and passionate Omani and non- Omani volunteers and founded in May 2011. The I-Care's purpose is to raise awareness and encourage the community to show appreciation to one another by simple acts and life-changing experiences in order to create a caring society. Therefore, we always aim to partner with local organizations and individuals and engage them in our distribution events to help achieve our target throughout the year in the governorate of Muscat.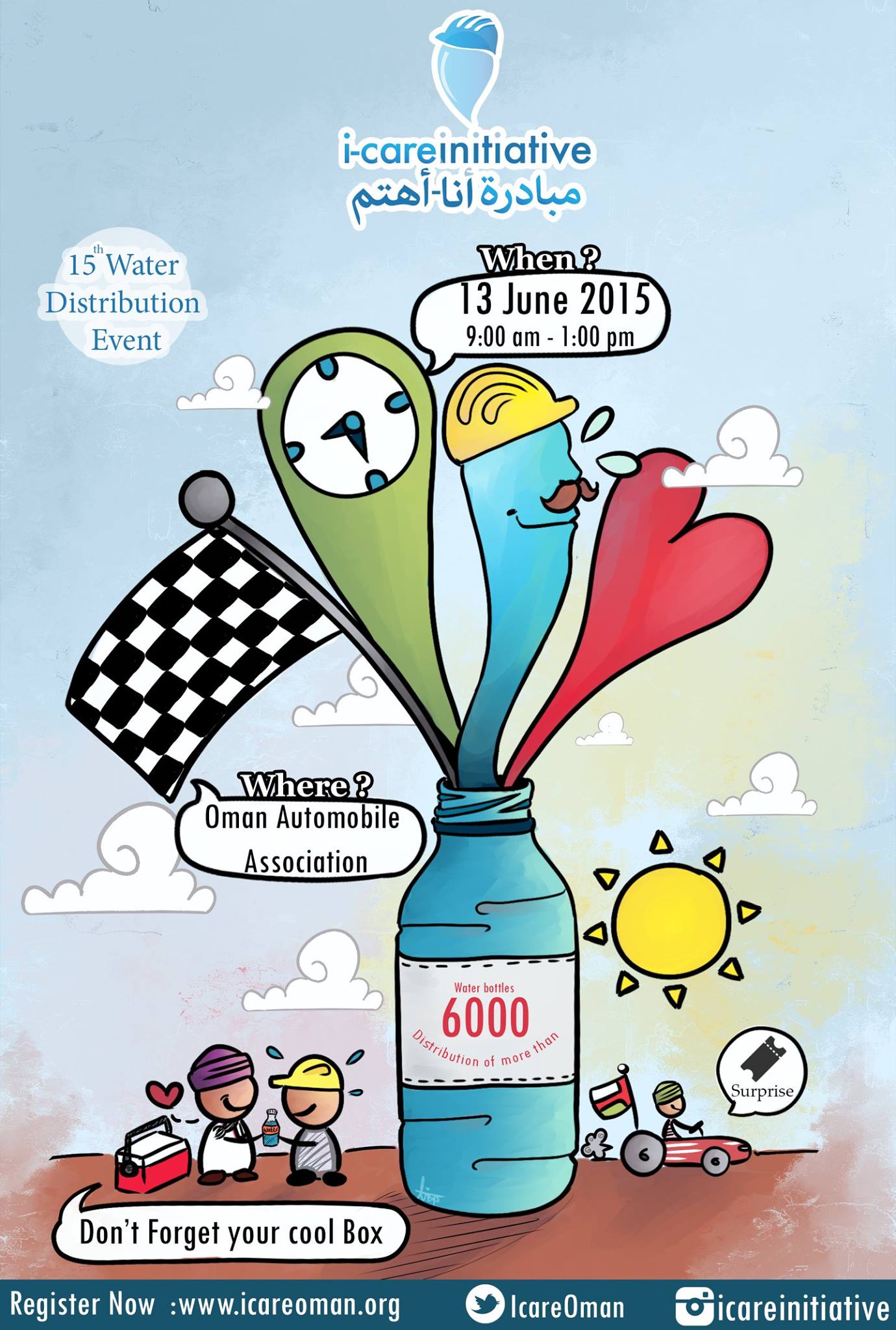 Over the past 3 years, the I-Care initiative has successfully managed to distribute over 80,000 bottles of water to construction workers in 12 different areas in Muscat and Salalah with the support of over 3000 volunteers, and in order for the initiative to continue its work and achieve its target, the initiative will hold its 15th water distribution event, on the 13th of June, 2015 with a target to distribute over 6,000 bottles of cold water among 12 different areas in Muscat.
We will be more than happy to have you and your team joining our inspiring distribution event along with other volunteers.
For more information and videos of previous events, kindly check www.icareoman.org
THIS TIME THEY WILL:
Distribute 6,000 bottles of cold water before lunch-time.
WHAT YOU NEED TO DO:
Register on www.icareoman.org
Be there on time.
Bring a cool box if you have one to keep the water cold.
Spread the word!
SAVE THE DATE:
Saturday 13th of June, 2015.
9:00 a.m. – 1:00 p.m.
Oman Automobile Association
Comments
comments