Two years ago when we featured the news that Jollibee will open its first branch in Oman. Since then, the excitement in the heart of many OFW in Oman is marvelous that they keep on asking when and where will be the location.
Few months back, the renovation of a building in Al Khuwair revealed to where the Jollibee will be located. The excitement grows more intense.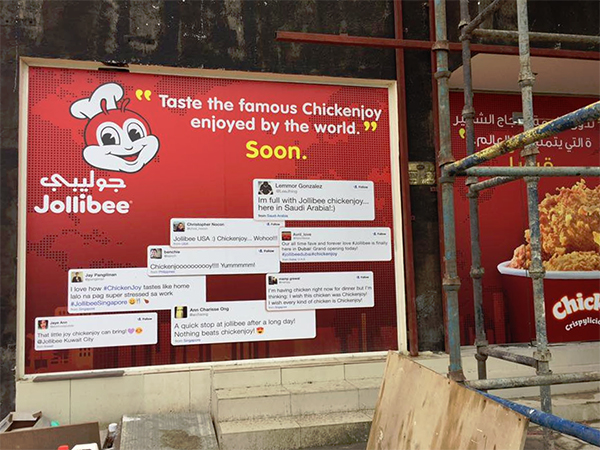 Many OFW who passed by the area will surely take a snap of the future restaurant location.
Jollibee Muscat Oman soon to open 👌
Madami nagtatanong samin sa inbox kung pano daw mag apply abroad sa jollibee? Sa mga nasa ibang bansa na mga jalibikru pano nga ba? 😀
#nalej

Posted by Nalej on Wednesday, 22 March 2017
Hearsay about the opening is supposed to be  last March, but then, as I personally passed by the area 5 days a week, I can say that the upcoming opening will not be that near.
April 25, when the Jollibee-Oman Facebook page emerged.
The hint is strong here, that the grand opening will be soon.
More and more kababayans became more excited and someone seems to camp out, nah! But this photo is a blockbuster of them all!
Finally, the official announcement.
Check out this video of the Jollibee mascot as he dances to the famous landmark in Muscat, Oman.
Here comes the real challenge, will you be able to bring home of one of these? First 100 customers only!
Langhap sarap is so close! Two more days.
To those who are not familiar with the location, check out the map below – red drop pin.

Comments
comments